Gutter Cleaning
Fallen leaves and accumulated debris can create many problems for homes and commercial buildings. Gutters should be cleared of these clogging materials at least once each year. Double R&F Paint Corp. is a name you can trust for your gutter cleaning. Double R&F Paint Corp. offers timely and affordable services, so call today to get started on your gutter cleaning project.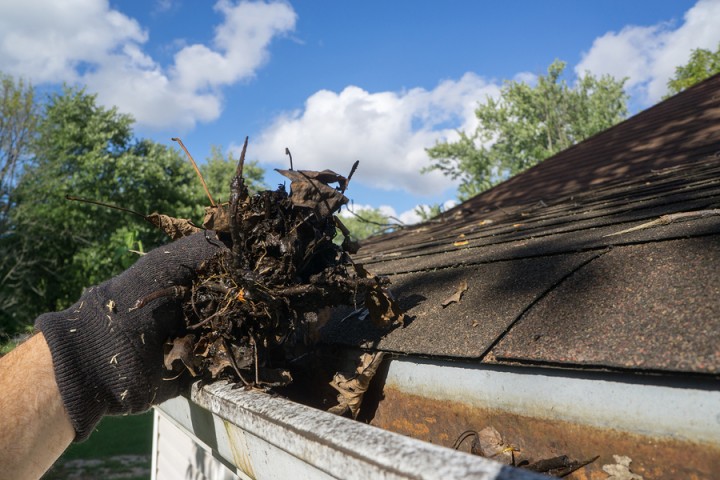 ---
Call for a FREE Quote
---
Benefits of Double R&F Paint Corp.'s Gutter Cleaning
Prevent Water Damage - Gutters protect your home or building from water damage. When gutters are clogged, water pools and runs over the gutter uncontrolled off your roof. This leads to eroding landscaping and pooling next to your foundation. With prolonged or severe rains, it is only a matter of time before this runoff water penetrates the foundation and seeps into your home or building. Let Double R&F Paint Corp. clean your gutters and prevent further water damage.
Stop Structural Damage - As gutters fill with debris and pooled water, they become heavy. This causes increased stress on your eaves. Nails become unsecured and wood begins to crack. Heavy rain or an ice dam is all it may take to pull a clogged gutter down. Also, ants and bees find their homes in and around damp, clogged gutters. Double R&F Paint Corp. will help preserve your home.
Save You Money and Time - Double R&F Paint Corp.'s gutter cleaning technicians are up and down ladders all day. Save the trouble and time of lugging around a hefty ladder and pulling gunk out of your clogged gutters. In an affordable fashion, Double R&F Paint Corp. will quickly and completely clean your gutters, saving you time and maintaining investment.
Help Keep You Safe - Ever fallen off a ladder or roof? It can ruin your day! Double R&F Paint Corp.'s trained technicians are practiced in roof and ladder safety. We'll do the gutter cleaning while you remain safely on land! Also, did you know that various insects often make homes in or near gutters? Who wants to be stung when pulling muck from a gutter? Do something safe while Double R&F Paint Corp. does the risking job of climbing ladders and the messing job of pulling gunk.
Double R&F Paint Corp. is a leading provider of gutter cleaning services. Our expert technicians have years of experience on roofs and ladders and can make your house or building gutters work again.
---
Call for Fast FREE Quote
Dial Area Code first please.
---